Oak Tree Passivhaus
Tyneside finally has its first Passivhaus, and it's been worth the wait!
Every November the Passivhaus Trust organises a series of Open Days. Visitors can experience low energy, well insulated, comfortable and healthy buildings for themselves. This year, Tyneside's first certified Passivhaus opened its doors to the public. I've been waiting a long time for this milestone.
Located on the southern fringe of Whickham, the house occupies a large garden plot in a suburban estate. The site looks down across the River Derwent with fabulous views towards the countryside beyond. To capture the panorama, the house is 'upside down' with bedrooms on the lower floor, and a large open plan living space on the upper entrance level. An impressive oak tree stands proudly in the middle of the garden and greets visitors on arrival.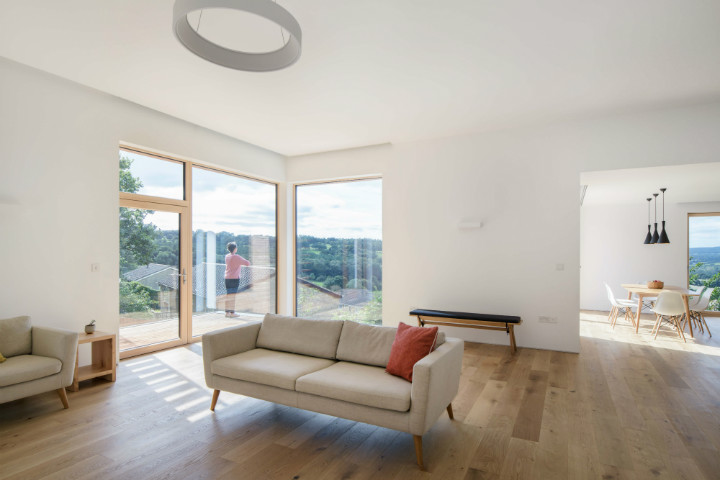 The first thing that strikes you on walking through the front door is the height and light of the upper storey. With 3.2m high ceilings and large triple-glazed windows, the sense of space in the living area is a delight. Dan Kerr, of MawsonKerr, the project director for the scheme, explained that Passivhaus principles are not detrimental to design but rather enhance it. The Passivhaus Planning Package (PHPP) is a tool to prove and inform the design decisions made.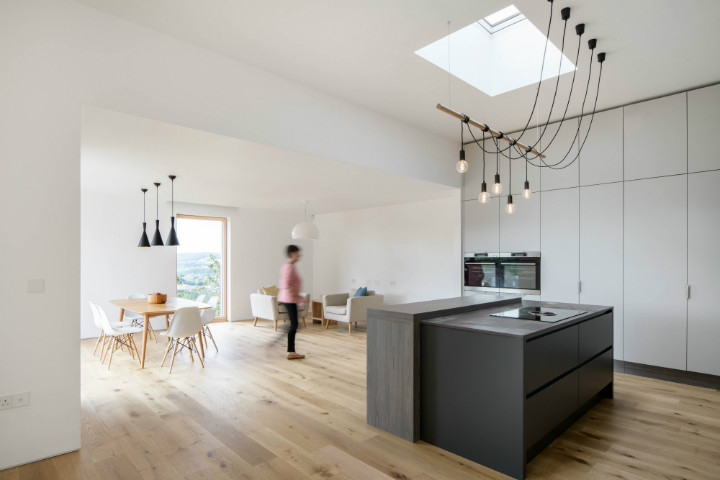 The procurement of Oak Tree Passivhaus was equally ambitious. Dan had previously designed the award-winning low-energy Shawm House in collaboration with client Richard Pender. Because Passivhaus buildings are relatively new to the North East it means that early adopters are inevitably paying a premium to the few contractors willing to deliver such schemes. At Shawm, Richard Pender opted to construct the house himself rather than pay over the odds. The collaboration was so successful that MawsonKerr and Richard have set up a development company to kick start the production of similar low-energy homes.
Using similar techniques as at Shawm House, Oak Tree Passivhaus is constructed using a twin timber stud filled with mineral wool insulation. Externally, the frame is clad with a mix of larch boards and render panels. Lined internally with Smart Ply OSB, the whole house has achieved an impressive airtightness of 0.36. Coupled with an MVHR system and an efficient gas boiler especially for low energy buildings, the heating demand is estimated to be 13 kWh/(m2a).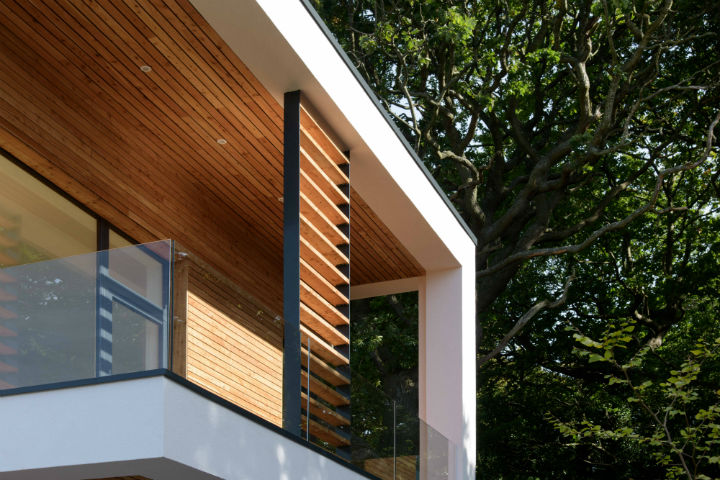 The combination of proven construction techniques and skillful design has resulted in a beautiful home which maximises the site's potential. I've been keenly awaiting the arrival of Tyneside's first Passivhaus for years now, but not as long as the new owners of Oak Tree Passivhaus who have been trying to realise a scheme on their site for over 20 years! I'm pleased to say it's been worth the wait.
---
Credits:
Photography by Jill Tate
Initial design by Concept Architecture