Viking Energy Network Jarrow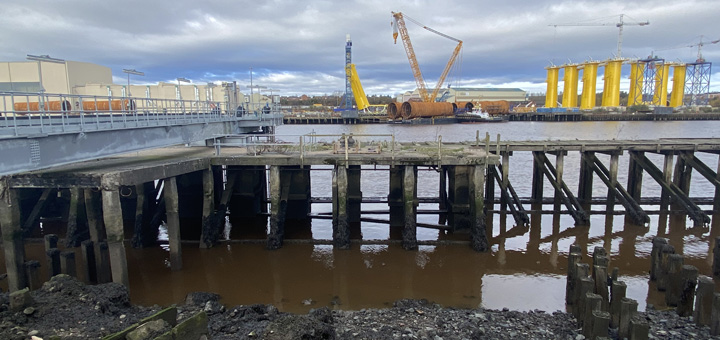 The newly opened Viking Energy Network in Jarrow is drawing heat from the River Tyne and supplying low carbon energy to buildings across the town.
Every now and again you catch a refreshing glimpse of the energy transition happening around us. On Friday, I stood on the banks of the River Tyne whilst South Tyneside Council's Special Projects Officer Nick Davies pointed out the pipework on a new gantry spanning across the Jarrow staithes. Those staithes were constructed in the 19th century to load coal onto boats bound for the capital. Today, under the shadow of enormous wind turbine components being loaded onto barges in Wallsend, they're helping to support a vital tool in the fight against climate change, the 'electrification of heat'.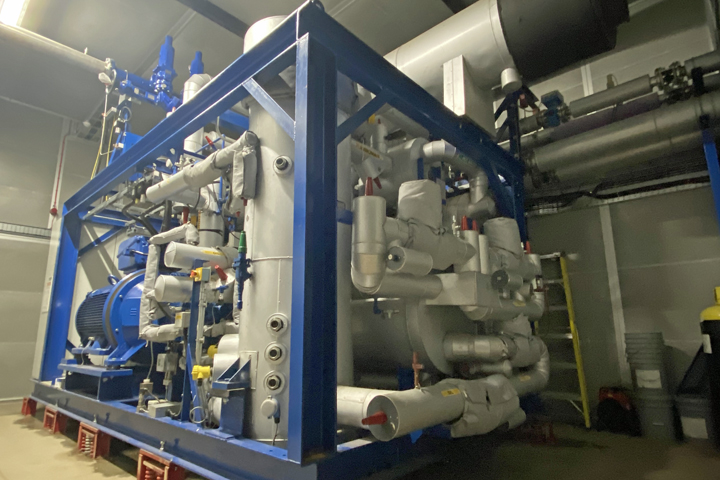 The Viking Energy Network at Jarrow was commissioned in October, marking the end of a 7 year project. Nick walked me through the journey taken by the water from the Tyne, over 2,000 litres per minute, as it is abstracted, pre-warmed with a 150 kW solar thermal array and supplied to a 700 kW industrial heat pump. The heat pump extracts around 500 kW of heat from the river water, with an estimated coefficient of performance (COP) of 3. It concentrates the low grade heat of the river water to 75⁰C, suitable for use in a newly installed district heating network. The hot water circulates around 2.5km of insulated pipework supplying council-owned buildings including three tower blocks, a leisure centre, a business centre and Jarrow Town Hall.
Generating heat from electricity with a heat pump is one of the most effective ways of reducing carbon emissionsOver the last decade we've witnessed the astonishing rate at which the national grid is becoming decarbonised, as wind turbines and solar farms are connected. Using a unit of electricity from the grid today emits only half the carbon it did 10 years ago. Predictions are that the grid will be fossil fuel free by 2035. However, our buildings use far more energy in the form of heat, for space heating and hot water, than they do in electricity. Generating this heat from electricity with a heat pump is one of the most effective ways of reducing carbon emissions.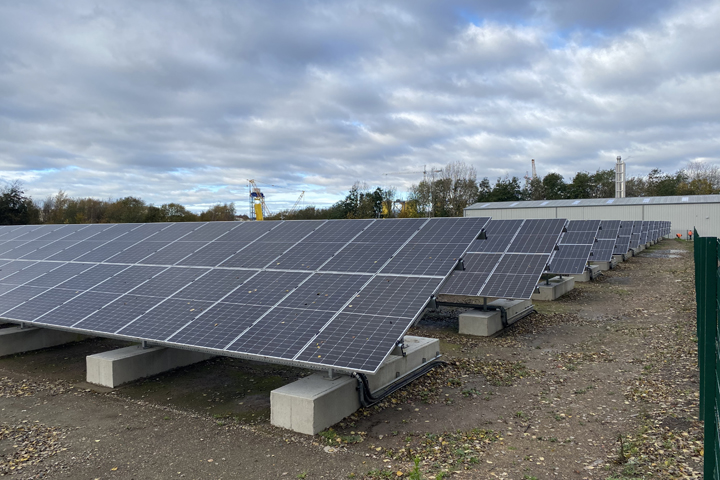 A challenge with some heat pump systems, large and small, is that the cost of electricity to run them can be more than the cost of the gas that they're replacing. At the Viking Energy Network this is counteracted by connecting it to a 1 MW solar farm on adjacent land. The renewable electricity supplies the heat pump, as well as Jarrow Town Hall along a private wire. Excess energy is stored in a 650 kWh battery. There is also a combined heat and power (CHP) back up system and two gas boilers to ensure the continuity of heat at peak times.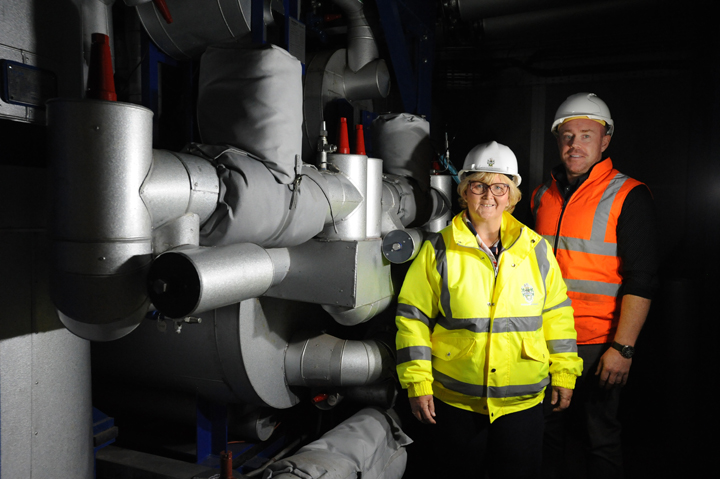 A report carried out by Newcastle University Energy Centre to assess the impact and effectiveness of the project states, "Concerns about cost and security of supply, and climate change, have increased since the project began. New policies from UK Government have highlighted the strategic value of heat networks and heat pumps in the transitions to net zero, and as such the project has high value as a demonstration of the two technologies. The experience of South Tyneside Council in delivery of this project can benefit other civic partners."
Nick explained that this project should save over 1,000 tonnes of CO2 each year, and it has the capacity to expand. There is space within the energy centre for a second heat pump, and a study is underway to assess how local sheltered housing schemes, schools and a local hospital can be added to the district heating network. Capital cost is a barrier to this type of scheme, and it was supported with a £4.6m grant from the European Regional Development Fund (ERDF). However, South Tyneside Council has demonstrated that if we're going to reach net zero anytime soon then projects like this are vital. It took 7 years to bring the Viking Energy Network to completion. Another 7 years from now and we'll be in 2030, the year when many local councils across the UK have declared they will reach net zero. I'd recommend that as many of them as possible visit Jarrow soon for a lesson in the electrification of heat.