E-bike Maintenance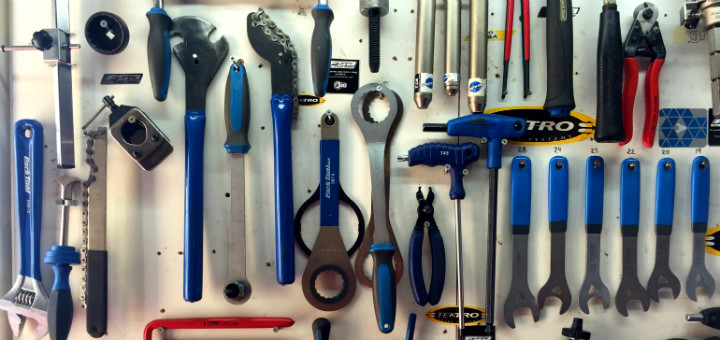 E-bikes are trouble-free but like all bicycles, they require regular maintenance.
For years I've owned bikes that were best described as 'cheap and cheerful'. When a bike doesn't owe you anything, it's easy to treat it hard. For me, a bike service has always been a bucket of hot soapy water and a generous spray with WD40. Now, some people swear by such spray-on oil, but when I bought my e-bike 18 months ago I figured I should understand a bit more about bike maintenance. "If you purchase a quality e-bike you basically have nothing to worry about if you are armed with basic bicycle maintenance skills."When you've splashed out a sizeable pile of money on a high-quality e-bike, you want to treat it well. The record-breaking E-bike Cycle Tourists claim that, "If you purchase a quality e-bike you basically have nothing to worry about if you are armed with basic bicycle maintenance skills." Alas, those were the very same basic skills that I lacked.
Thankfully, Newcastle's Quayside is home to one of the North East's top bicycle mechanics, and he offers training sessions. Mario Ilewicz runs Bike Serve, a professional bicycle repair and maintenance service at The Cycle Hub. Last summer Mario took me through his basic maintenance course. It was a fantastic introduction to looking after my bike, replacing inner tubes and brake pads, adjusting gears and keeping the chain clean and lubricated. Feeling a little more confident this autumn I took his advanced maintenance course which involved stripping key parts of the bike down to its components, greasing bearings and replacing items which had started to wear out such as the chain and the gear cable.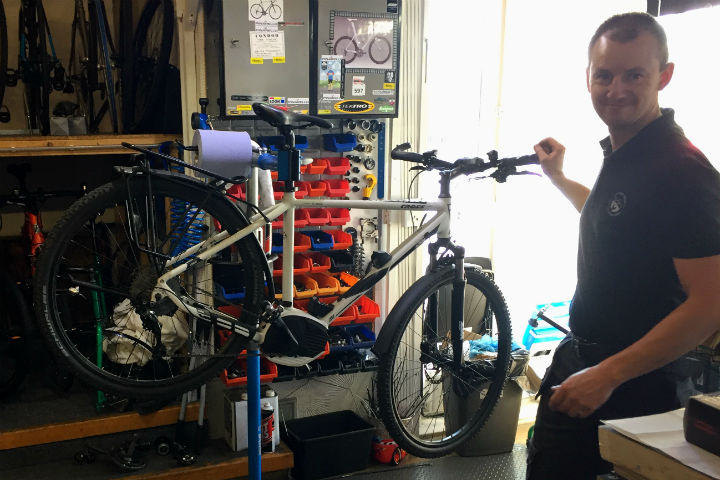 Mario taking me through his bike maintenance course
Both courses were one-on-one and we used my bike for the demonstration. This was particularly helpful for me as an e-bike owner. It's true that e-bikes are little more than a bicycle with a motor and a battery attached, but they do have some idiosyncrasies. Whilst Mario isn't an accredited Bosch trainer, he's familiar with the motor system used on my KTM e-bike and was happy to pass on his valuable advice. To start with, the bike weighs almost 20kg without the battery, and only a heavy duty work stand would support it. We looked at ways to manage key tasks such as cleaning the chain and the rear cassette without the stand since I don't happen to have a bike workshop at home. Of course all of the Bosch e-bikes have only gears on the rear wheel which makes life much simpler.
The good news is that the Bosch motors and batteries require very little maintenance. As long as you don't submerge them in water or go at the bike with a pressure washer then you should get years of reliable service. The E-Bike Tourists can confirm this after their 55,600km trek around Europe. Bosch recommend having a dealer check over the e-bike specific parts, and there are a few shops in the North East who can do this. I'm expecting the motor chainring will need replacing in the next year or so and I'll get a dealer to check the electrics at the same time.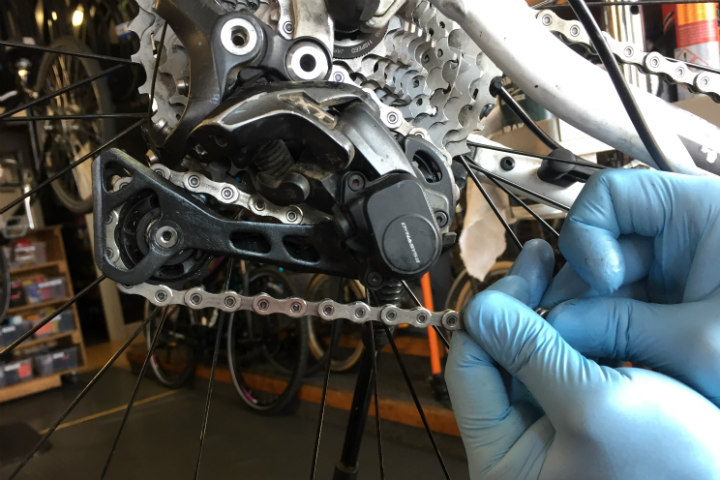 Learning how to replace my e-bike's chain
After Mario's two courses I feel a lot more confident tackling simple bike maintenance tasks. I've also become a lot more diligent about keeping my e-bike in good condition. About once a month I clean it from top to bottom, take the rear wheel off to clean the cassette and derailleur, clean and lubricate the chain, and check the tyres and brakes. All of this should help me to get the longest life possible out of the high quality parts that came with the e-bike, and it doesn't require any specialist tools. The bike feels like new afterwards and it's rewarding to know that I'm not relying on a bucket of hot soapy water and some WD40 to keep my e-bike on the road.
Read more about e-bikes here.