Bale Frenzy!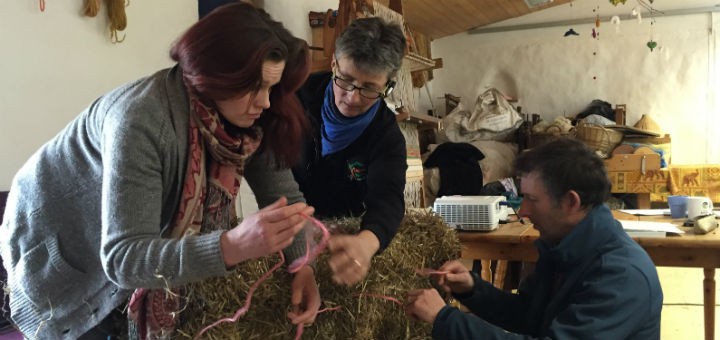 I take a course in straw bale building and learn about the myths and misconceptions of this natural construction material.
As a kid growing up in rural Northumberland, I have happy memories of playing in the hay barn of a nearby farm. We'd build hideouts from the bales, and the smell of fresh straw at harvest time is unforgettable. I've been interested in straw as a building material for some time, so when Straw Works announced they'd be running their introductory course 'The First Straw' in Darlington, I signed up to learn more.
Straw bale building is sporadically highlighted in the mainstream media, largely as an excuse to use Three Little Pigs metaphors. Most recently, 7 affordable houses have been built in Bristol with the help of Bath University who are trying to persuade the  construction industry to adopt their ModCell straw panel system.
Such innovation might make you think that straw building is new.  It was reassuring, therefore, to have Straw Works' Rae Parkinson start the day with a presentation on the long and colourful history of bale building. The earliest surviving records show that it started in Nebraska at the end of the 19th Century. The development of the horse-drawn bailer, coupled with the accommodation needs of migrant agricultural workers, gave rise to temporary straw bale homes, many of which survive to today. The Simonton House dating from 1908 (pictured), is still in use, dispelling the myth that straw bale buildings aren't durable.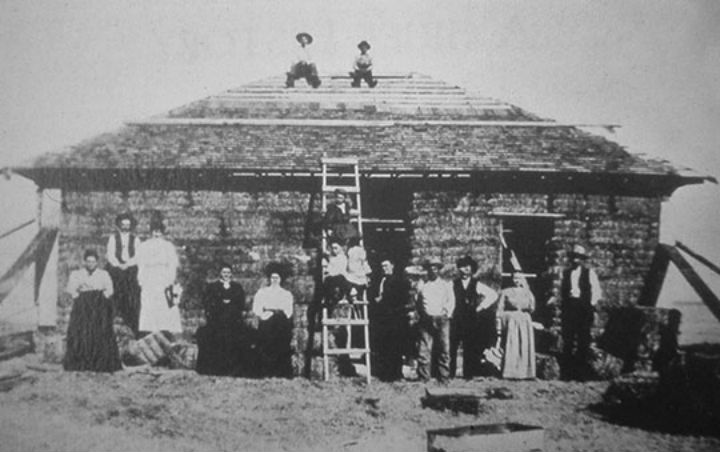 Barbara Jones, who heads up Straw Works, studied bale building techniques in California before bringing the knowledge back to the UK and constructing her first UK bale building 1997, near Darlington. Through her previous company Amazon Nails, and now Staw Works, she has since been involved in hundreds of other projects across the UK and Ireland. This course was held in the Clow Beck Centre (pictured below), one of Barbara's buildings from 2000 which is of straw bale construction on rammed earth foundations, a first of its type.
Barbara and Rae are effusive about the advantages of straw bale building.  We learn about it's low embodied energy, fire resistance, thermal insulation (U-values are typically 0.11-0.13 W/m²K), acoustic characteristics and biodegradability. It's the construction method's accessibility which I found so interesting. Whole buildings can be constructed with relatively few skills, making straw bale building particularly suited to self-build or community projects.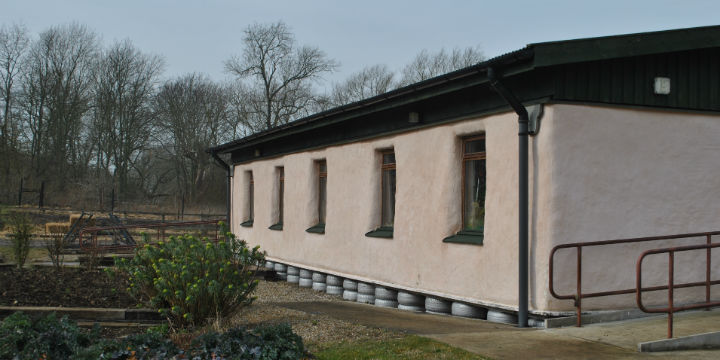 It's plain that Barbara sees this accessibility as reclaiming construction from specialists and professionals for the common man or woman. She uses the term Bale Frenzy to describe an 'over excitement when working with straw', resulting from the sudden realisation that construction with bales can be quick, effective and rewarding! You get the feeling she spends a great deal of time trying to marshal such enthusiasm.
A major part of the course is about designing with the bale in mind. For straw bale building to be efficient and cost effective it needs to be understood in terms of the basic building unit. Rae attributes most bale construction problems to a misunderstanding of the material's fundamental nature, and size. Team exercises in drawing a simple building confirm how easy it is to over complicate things!
The day finished with a practical session on dressing bales, and subdividing them. The hands on straw work brought me right back to those hours spent in the hay barn. Everyone came away with the feeling that bale construction is achievable once you've learnt the tricks of the trade, and Straw Works offer a range of practical courses for further hands-on experience.
---
"The First Straw : Designing with the Bale in Mind", is an essential preparation course in straw bale design tailored to self-builders, architects and designers. The course was presented by Rae Parkinson and Barbara Jones of Straw Works who offer this course and others in several locations around the country.