E-bike Service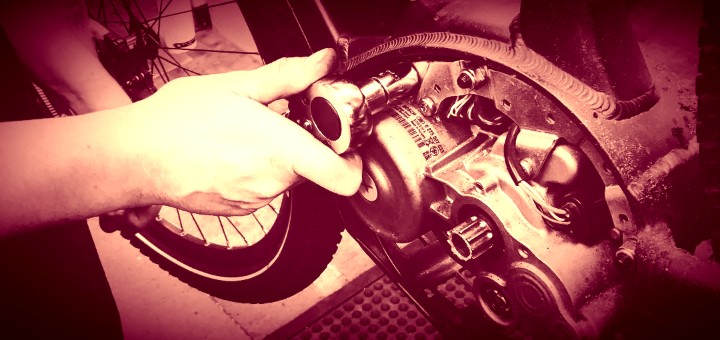 The time has finally arrived for a professional service on my e-bike.
It's just over two years since I took delivery of my e-bike and I'm still using it regularly to commute to work. I've recently moved house and my daily round trip is now 20 miles which I'm managing around three times a week. Knowing that I'd soon be clocking up the miles, I arranged for the specialists at Cycle Centre on Shields Road in Byker do an e-bike service for me.
Having done a couple of bike maintenance courses before, I'm pretty handy at carrying out regular maintenance on my e-bike. However, I steer clear of tinkering with the battery, motor and cycle computer. The bike displays a reminder when it's time for its annual service, and for this it's best to use a Bosch-trained mechanic. There aren't many in the region but thankfully Cycle Centre came recommended.
Bike mechanic Alan Williams took me through the details of the e-bike service that he carries out. After a number of visual checks, the service starts by plugging the cycle computer into a PC with a USB cable and carrying out a diagnostic check. Much like servicing a car, this can flag up errors with the hardware or software. Thankfully, no error codes were detected on my bike. Then the onboard software is updated to ensure I get the best range possible.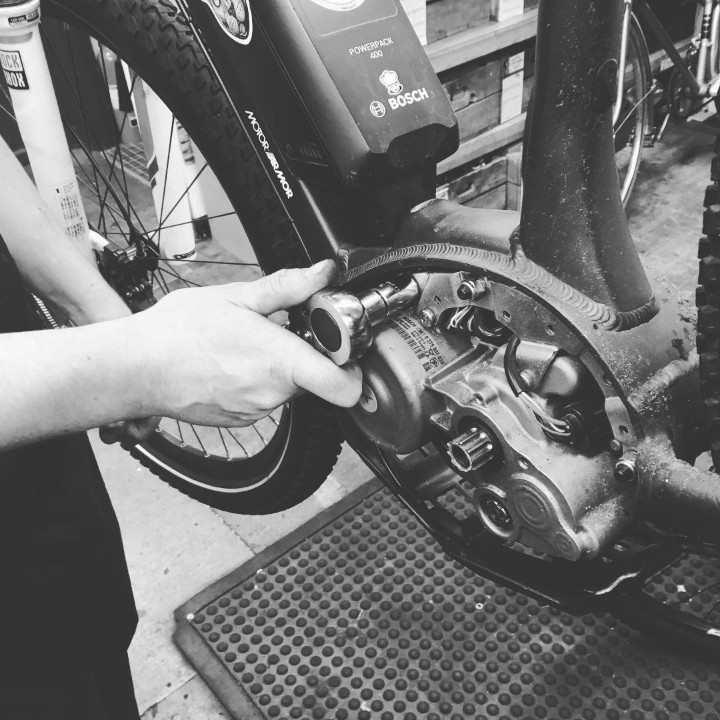 Getting to grips with the e-bike motor, photo courtesy of Cycle Centre
The diagnostics also help to understand the demand that I'm placing on the battery. It has been through about 70 full charging cycles so far which isn't too bad considering I've cycled nearly 2,500 miles, mostly on the 'Turbo' setting! The batteries are expected to last between 500 and 1,000 charging cycles so, in theory, I should get around 20,000 miles from it before I need to think about replacement, which I reckon is pretty impressive.
The checks on the motor are mostly visual. Alan explained that he has to remove the pedals and cranks and take the cover off to make sure that the motor is still secured to the frame. There are three torque mounting bolts which need to be checked. However, the motor itself is a tightly sealed unit and it doesn't require any attention unless the bearings need replacing. I'm told not to worry unless I hear a loud creaking noise when pedalling which indicates that the bearings are on the way out. Alan says he's done 6,000 miles on his Bosch e-bike and the bearings are still fine, but when the time comes, Bosch can supply a replacement kit. So bring on the next 17,500 miles!