Footprint 2018
Taking steps towards a more positive and sustainable future.
Last weekend I attended Footprint 2018 at Durham University. Run over two days, the event was a series of seminars, workshops, lectures and discussions about climate and the environment. The aim was to bring innovative, creative, and inspiring minds together to explore ways in which individuals and communities can approach environmental sustainability.
"We've had enough of negative rhetoric. It's depressing but there are so many solutions."During a break, I caught up with organiser Sarah Mercer to discover more about the student-led event. Sarah explained that she's been interested in climate change and the environment for a long time but didn't know how best to help. A chance encounter with explorer Pen Hadow inspired her to think big, and Footprint was conceived. I was particularly interested in the event's upbeat atmosphere. "We've had enough of negative rhetoric," says Sarah. "It's depressing but there are so many solutions." This positive approach ran throughout the event including reducing the event's own footprint. Only digital programmes were issued, speakers arrived by public transport, and the REfUSE team provided lunch from surplus food.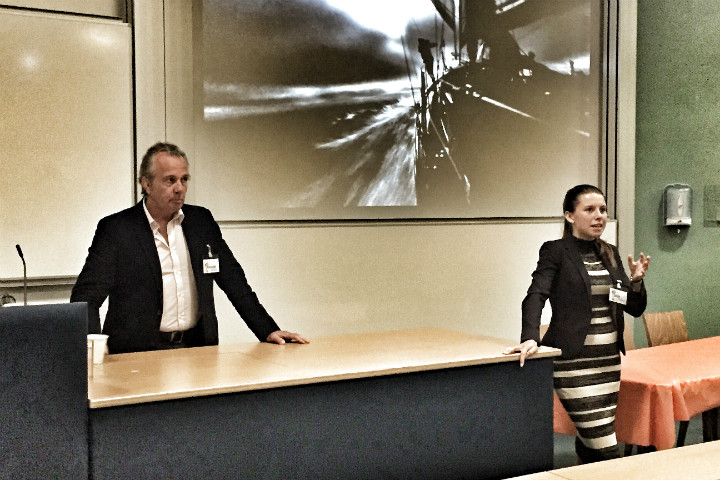 Pen Hadow was introduced by event organiser Sarah Mercer
"If we can't imagine a better future, we can't create it."I joined the Climate Conversations workshop run by Nick Nuttgens and Tim Allen from Sheffield University. Their aim is to normalise conversations about climate change which is too often the elephant the room. Through a series of discussions and role plays, Nick and Tim helped us to think about how we can discuss climate change, particularly with people who may have differing priorities. Their contention is that most people are concerned by climate change but most individuals believe that others aren't interested. We have to break the ice to move the subject to the forefront of society's consciousness. "If we can't imagine a better future," says Nick Nuttgens, "we can't create it."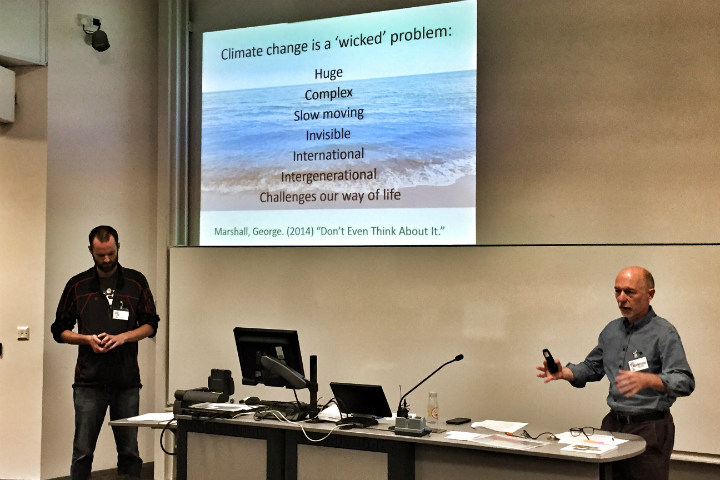 Climate Conversations Workshop with Tim Allen and Nick Nuttgens 
The keynote speech was delivered by Pen Hadow himself. His inspiring lecture stressed the power of a story. Through tales of his expeditions, Pen presented the dramatic changes that our climate is bringing to the Arctic environment. "We are responsible for a new open ocean on our planet." In the next 15 to 20 years, the Arctic will be entirely blue for several months of the year. Horrified by the impact on this fragile habitat, Pen has set out to create the world's largest marine reserve at the pole. He has sold his house to set up a yacht-based scientific mission and has sailed to within 500 nautical miles of the pole. Sailing vessels penetrating so far into the Arctic has told a powerful story at the United Nations, and Pen Hadow is quietly confident the marine reserve project can succeed.
The Footprint event concluded with an 'activism forum' aiming to distill the essential ideas raised over the two days. There were a number of exciting initiatives to be taken forward including a challenge to Durham University to become zero carbon and zero waste. A Footprint social media group will continue the discussion and hopefully future events will advance the good work towards a more positive and sustainable future.