Minimalism and Peak Stuff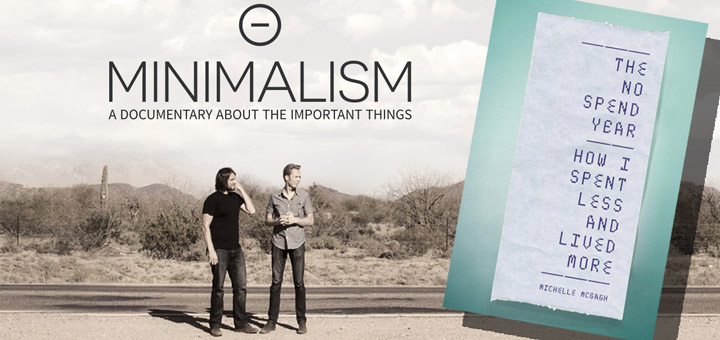 Could a rise in enthusiasm for minimalist living signal that western society is nearing 'Peak Stuff'?
I've been intrigued by the rise of references to minimalism in the media over the last few years. Rather than pointing to a pared back style, or an architecture stripped bare of decoration, minimalism is being used to define a new way of living. A recent film and book both showcase minimal lifestyles and raise important questions that we should all consider.
'Minimalism' is a film documentary about American minimalists and bloggers Joshua Fields Milburn and Ryan Nicodemus. Set in a U.S. context they use engaging interviews and footage to demonstrate how the American Dream has been hijacked by corporations who just want to make money out of selling stuff. It's hard not to be downhearted by the scenes of mayhem from Black Friday sales, but Milburn and Nicodemus tell a positive story about living better with less. In simple terms, minimalism is a lifestyle that helps people question what things add value to their lives (1).
Official Trailer for Minimalism
'The No Spend Year' is a book by Michelle McGagh, a freelance journalist who writes on personal finance. She also co-authors the London Minimalists blog. Whilst the book is principally about saving money and paying off debt, I was most interested to read how McGagh reaped the benefits of cutting back on all but essential consumption. "We live in a world that bombards us with choices," she says. "Too much choice is exhausting." "We live in a world that bombards us with choices … Too much choice is exhausting."McGagh discovered that the lack of choice arising from her self-imposed frugality was liberating. This low-consumption lifestyle was obviously good for the environment too. Without money to spend on petrol or public transport, she cycled everywhere for a year, saving carbon emissions. She didn't buy anything other than groceries and basic toiletries, reducing her resource footprint and keeping waste to a minimum. More importantly, after her 'no spend' year she says she's happier than before!
Are these minimalists the early adopters of a new pattern for living? Steve Howard, Ikea's head of sustainability, said last year that we have probably hit 'peak stuff' in the west (2). Many people have reached a level of sufficiency and are starting to understand that consumption beyond this point doesn't deliver the happiness promised by advertising. In the west, our carbon footprints are far greater than they should be. This is further accentuated when you account for embodied emissions, i.e. those created overseas in the production of our consumer goods, as demonstrated by Ivanova, et al (3). Anything that addresses this imbalance, whilst leaving people happier, has got to great for the planet.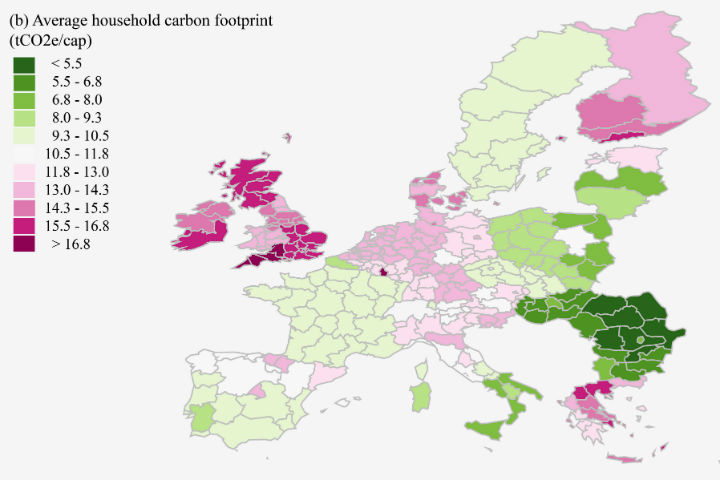 Per capita household carbon footprint across 177 EU regions in tonnes of CO2 equivalent per capita (tCO2e/cap), encompassing both direct and embodied emissions.
"We will be increasingly building a circular Ikea where you can repair and recycle products."It's no so good, however, for businesses reliant on the continued expansion of consumption. Ikea has recognised they can't continue to sell more of the same in increasing volumes. Instead, they're trying to help customers live in a more environmentally friendly way. Howard said, "We will be increasingly building a circular Ikea where you can repair and recycle products."
The circular economy is the only model which will sustain us into the future, as we discussed in an earlier blog. Minimalism brings a new dimension to this. People are making do with less, not because those products are unsustainable, but because they don't want or need the products in the first place. I will certainly be interested to see whether peak stuff is really upon us, or whether it's a function of austerity. In the meantime, I can recommend both the film and the book for an insight into minimalist living.
---
References
'Minimalism : A Documentary About the Important Things', 2015
'The No Spend Year : How I Spent Less and Lived More', Michelle McGagh, 2017
(1) Minimalism : An Elevator Pitch
(2) We've hit peak home furnishings, says Ikea boss, The Guardian
(3) Households in the south-west of England are some of the most carbon intensive in Europe, a new study shows, Carbon Brief