A New Lease of Life for the Hebburn Eco Centre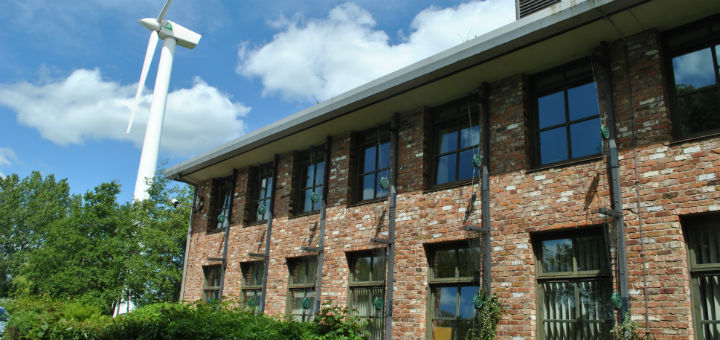 Almost 20 years since the Eco Centre opened, Groundwork have refurbished their innovative headquarters in Hebburn, reaffirming its green credentials and their commitment to minimising their impact on the environment.
In the early 1990's, the reporting of climate change was in its infancy. A scientific consensus had begun to coalesce around carbon dioxide and the role it was playing in global warming, but green building was still responding to the energy crisis of the 1970's and the oil price shock that followed the 1990 invasion of Kuwait. One of the big themes was 'building autonomy', which we reported in our review of The New Autonomous House. Lionel Hehir, then Executive Director of Groundwork South Tyneside and Newcastle (STAN), who commissioned the Eco Centre, told me that he wanted a building that could look after itself. As far as possible, it should be 'unplugged' from the network.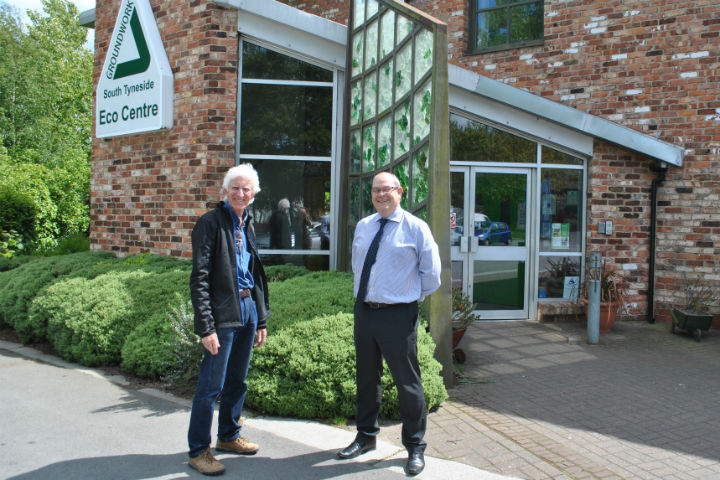 Lionel Hehir (left) and Chris Wild (right) in front of the Eco Centre
When it opened in 1996, the Eco Centre was the region's most sustainable office building. Groundwork STAN, an environmental and community charity, 'Our philosophy was like the Brailsford approach to cycling. Make improvements everywhere. Even if in some areas they are small the overall total impact will be big.'wanted an HQ to reflect its ethos, 'Changing places, changing lives, one green step at a time.' This agenda was driven by Lionel Hehir's passion for green building, and supported by the expertise of architect Carole Townsend. 'Our philosophy was like the Brailsford approach to cycling,' explains Carole. 'Make improvements everywhere. Even if in some areas they are small the overall total impact will be big.'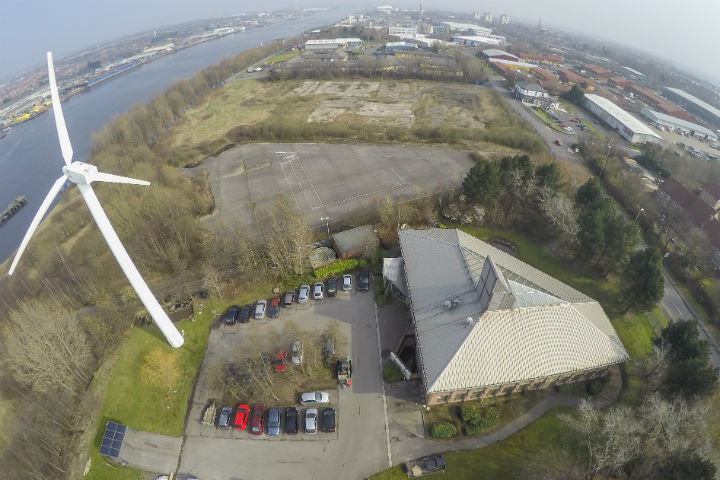 I first visited the Eco Centre in 2005, but was delighted to be shown around again recently by Lionel together with Chris Wild, Groundwork STAN's Business Manager. The 1,200m² building provides accommodation for the charity and a further 16 serviced office units together with meeting rooms and support facilities. Built on brownfield land of the old Hebburn Colliery, the car park sits on the most contaminated part of the site whilst the building is pushed to the South but orientated to maximise solar gain and daylight. This daylight is the centre's most striking feature. On passing the reception, you are soon in an atrium flooded with natural light.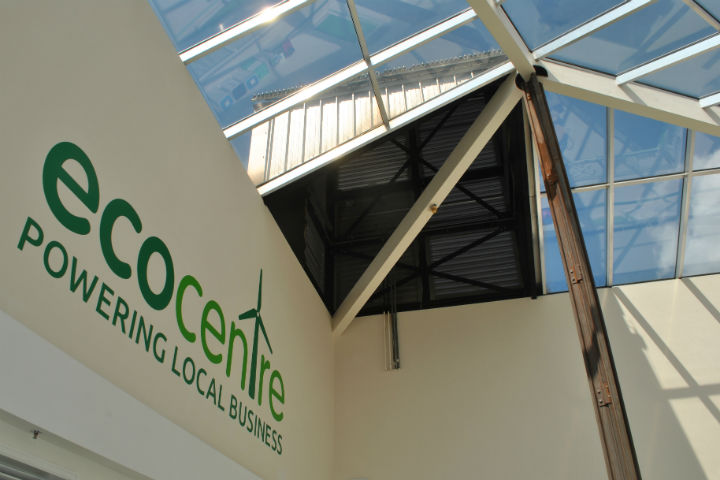 This atrium plays a central role in the natural ventilation strategy. Fresh air is drawn through perimeter windows and stale air rises up in the atrium to be expelled through the louvres of the distinctive rooftop chimney. Thermal mass in the concrete floors and walls reduces excessive temperature fluctuations, and Chris confirms that the building is comfortable for most of the year. During hot and still summer days, they open the smoke extract vents in the roof to boost the ventilation rate. Each office has a timber louvre above its door to promote natural ventilation. One downside to this approach can be noise break-out from the offices, but this is cleverly mitigated by the sound of a water feature in the atrium.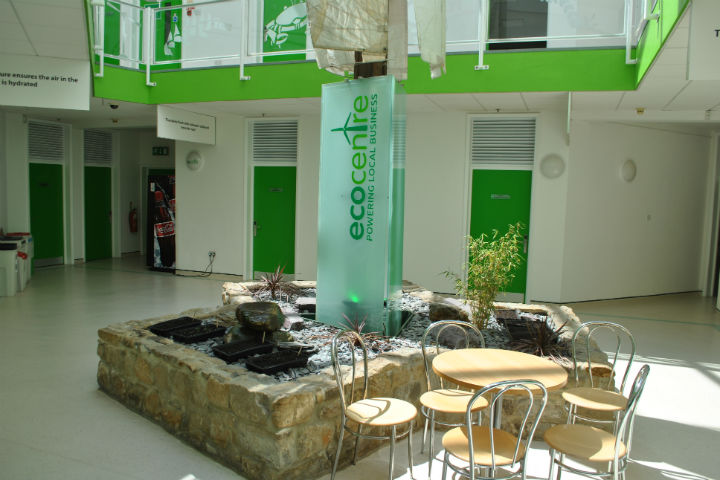 Energy self-sufficiency was a key aspect of Lionel's original brief and this was tackled with a two-pronged approach. Firstly, the building is as energy efficient as they could afford at the time. Carole reminds me that the BRECSU 'best practice' energy target for offices at the time of construction was 220 kWh/m²/yr. A second-hand 250kW Vesta turbine generates 300,000 kWh/yr, three times their energy usage.With a combination of good insulation, attention to cold bridging and air tightness, and efficient heating systems, the building currently averages 85 kWh/m²/yr. Secondly, the Eco Centre should generate as much energy as possible with on-site renewables. For the first 10 years, an 80kW Lagerwey provided almost all of their energy needs, but it could never quite meet the entire demand. With an eye for a bargain, Lionel snapped up a second-hand 250kW Vesta turbine, which generates 300,000 kWh/yr, three times their energy usage. Chris happily reports no problems with the turbine, no complaints from neighbours, and the trade in Renewable Obligation Certificates supports the charity's work. Other renewables include a solar thermal array, and a PV covered car port with electric vehicle charging.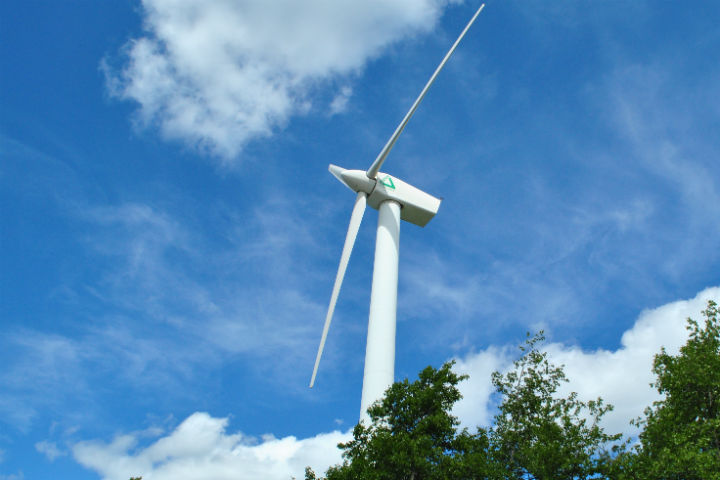 Generating so much on-site electricity means that the Eco Centre doesn't need to connect to the gas network. An open-loop ground source heat pump worked successfully for most of the building's life, providing heat through underfloor heating. This works well with the high thermal mass in the building. Carole reports one occasion where the heat pump broke down on a Saturday, but it was Tuesday before anybody noticed thanks to the thermal storage effect. Unfortunately, the salinity of the ground water took its toll on the system, and Chris has recently replaced it with an array of Mitsubishi air-source heat pumps. This solution generally wouldn't make sense for offices on the gas network, but given the surplus of electricity from the wind turbine it's a no-brainer, and the charity will benefit from the Renewable Heat Incentive.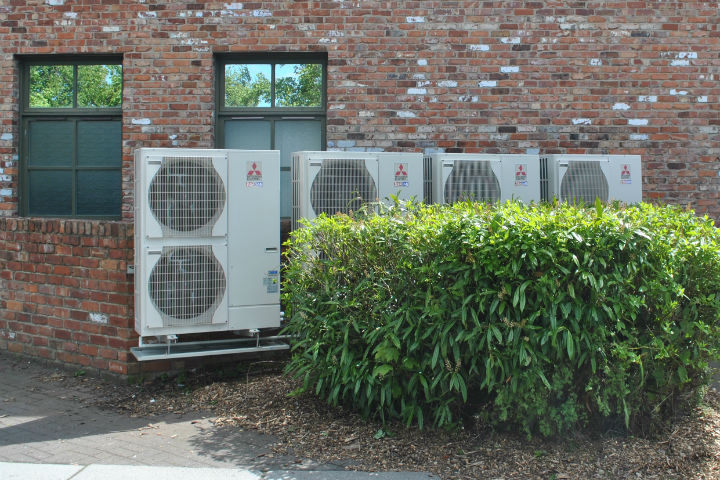 Continuing the 'unplugged' theme, the building was fitted with composting WC's. Marine style low-flush WC pans are arranged above a basement containing three large Clivus composting tanks. Sink waste and urine is diverted to a soak pit, and solids compost in the tanks which are vented to the roof. Lionel, during his tenure as Executive Director, set an example by regularly raking over the compost. An unpleasant job, but he figured nobody else could then complain about the chores they were given! Lionel set an example by regularly raking over the compost. An unpleasant job, but he figured nobody else could then complain about the chores they were given! The sewage installation hasn't been without problems. They've had drinks cans and nappies blocking the liquid diverter pipes, and a northerly wind can bring smells back down through the natural ventilation chimney. I can't help feeling that despite the environmental agenda, the composting loos aren't working out as well as hoped. Concerns about public health means the charity won't use the compost in its landscaping work, and trucking away the compost every six months must offset the benefits of water saving.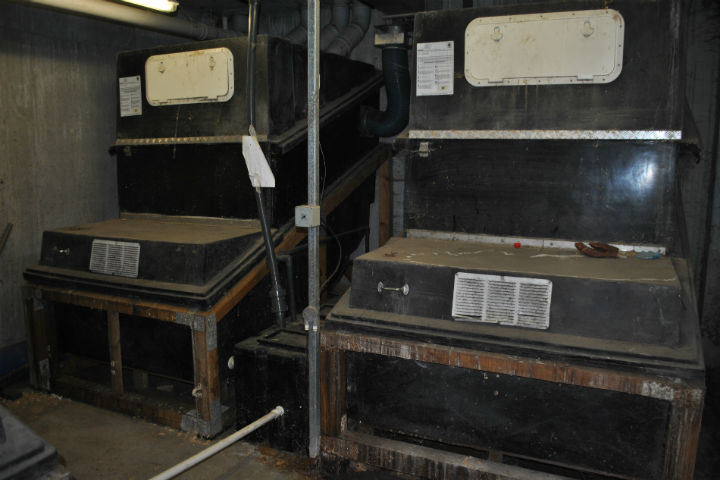 Lighting in the building is equally experimental. Supplied by an inventor friend of Carole's, the fittings use a highly reflective baffle to deliver efficient and shadow free lighting highly suited to the office environment. This was developed well before the advent of affordable LED lighting, but these fluorescent fittings continue to function well. An extension to the building in 2008 was fitted with 12v LED lighting powered directly by a micro-wind turbine through a bank of lorry batteries which has made for a fun and educational demonstration project.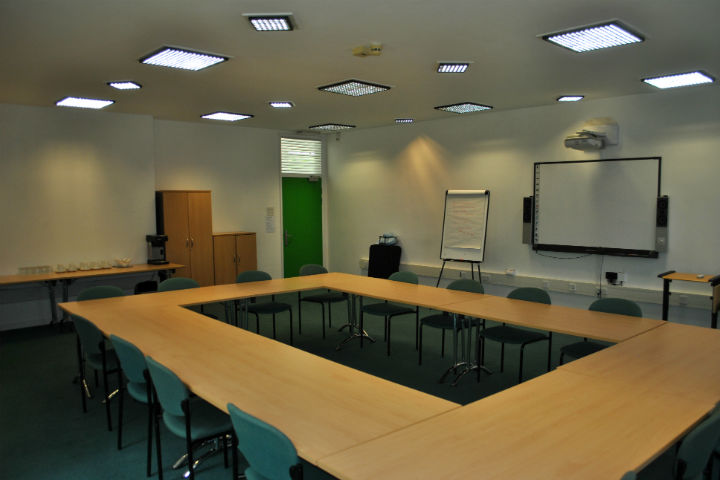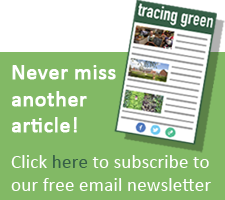 As much thought was put into material selection as the building services. Lionel was keen to use reclaimed materials where possible, although this wasn't without its challenges. Externally, all of the brickwork is reclaimed, but for sufficient quantity Lionel had to source from Lancashire where an old mill was being demolished. The profiled metal roofing was smelted from aluminium drinks cans, but he had to persuade the supplier to do a small production run specially for the project. Reclaimed wood was challenging due to old nails and screws, so they compromised on sustainably sourced new timber. However, the eye-catching use of railway tracks, donated by Nexus, supporting the atrium roof is great fun, as is the external shading and framework for climbing plants made from tennis netting and old Ford Transit clutch plates.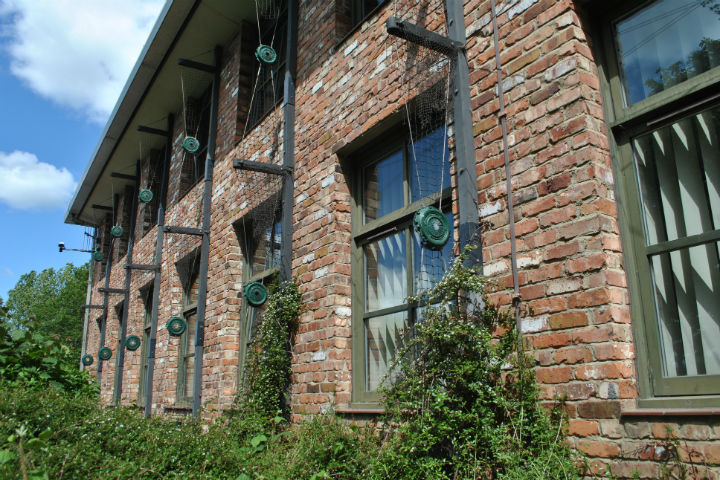 Nearly 20 years on, I can understand why Lionel and his colleagues are so proud of what they have achieved at the Eco Centre. Rightly so, because on top of its green credentials it continues to function well as an office building, bringing in revenue to support the work of the charity. Lionel wanted a building that would look after itself, and time has proven this achievement.
---
References
Client: Groundwork South Tyneside and Newcastle
Architect: Carole Townsend of Earthsense
Contractor: McAlpine
Construction Cost: £1.2m approx.
Energy Usage: 85 kWh/m²/yr approx.
U-values: Ground floor 0.40 W/m²K, Walls 0.30 W/m²K, Roof 0.25 W/m²K, Windows 3.10 W/m²K
Photo credits: All images by Tracing Green except Aerial View courtesy of Groundwork STAN.