A Postcard from Barbados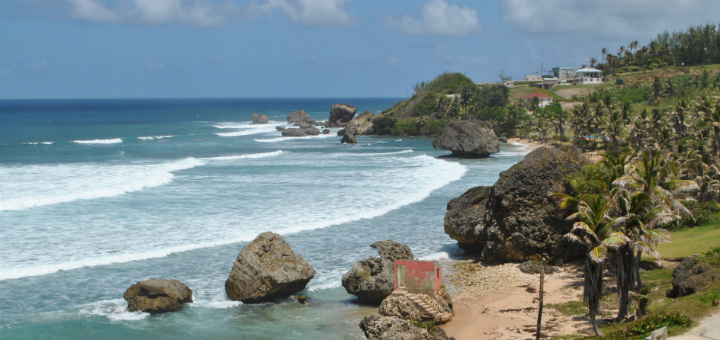 Notes from the tropical island paradise of Barbados: architecture, environment and progress towards sustainability.
Regular readers will have noticed that a month has passed since my last post. I've been on holiday in Barbados taking part in the GP14 Sailing Dinghy World Championships. My regular haunt is Derwent Reservoir in County Durham but it's fair to say that Barbados offers a different type of sailing altogether. Consistent winds, bright sunshine and warm waters. What's not to like! During my two week stay I had plenty of time to explore the beautiful 21 x 14 mile Caribbean island but, as always, with a curious eye for the environment and sustainability.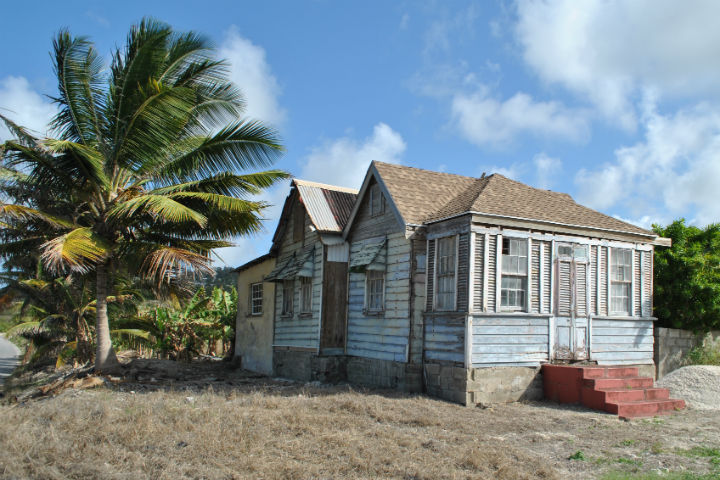 A traditional Chattel House
The architecture on Barbados is a clear response to the tropical monsoon climate. Temperatures remain between 21-31°C throughout the year with little diurnal variation. Since there's no opportunity for night cooling, buildings tend to be thermally 'lightweight' with louvres to allow the constant breeze to circulate. A good example is the vernacular 'Chattel' house. These modest timber-framed buildings, once owned by plantation workers, were built to be transportable and are commonly seen propped on piles of blocks. They also feature steeply sloping roofs to shed the heavy rain and resist strong winds.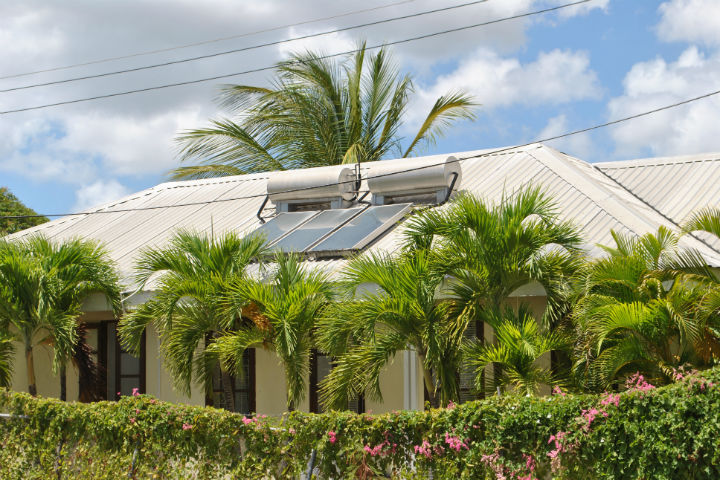 Package solar thermal system
Constant sunshine, coupled with favourable tax incentives since the 1970s has made Barbados a leading country in solar hot water heating. Package rooftop units are ubiquitous on the island, and 50% of households already have one plumbed in (1). Photovoltaics are less common, with only a few hundred installations on the island. However, a recently introduced Feed-In Tariff is helping to expand the roll-out of PV. At present, most of the island's electricity is produced by diesel generator(2), but Barbados has set itself the ambitious goal of generating 29% of its energy from renewable sources by 2029. PV will play a pivotal role in this, but there is limited scope for onshore wind turbines. Interestingly, the only wind generator I saw on the island was a windmill that's been working since the 18th Century!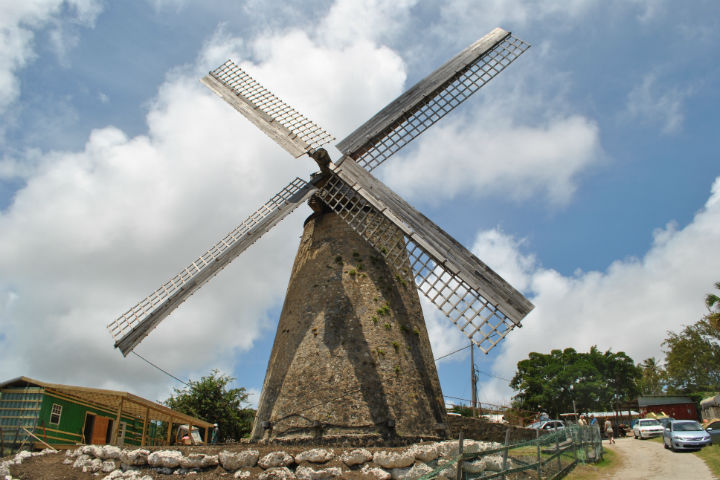 18thC Morgan Lewis Windmill
Despite a population of less than 280,000 people (4), the small island is actually densely populated. This places obvious pressures on the environment, particularly since so much of the island is used productively for agriculture. The island has been diversifying away from the sugar cane monocropping in recent years, and a Government Soil Erosion Unit is present in some areas to encourage good agronomic practices, reducing erosion and rebuilding soils. The Scotland District in particular, with its steep slopes, has historically suffered from erosion caused by deforestation coupled with strong winds and heavy rains. Despite these challenges, there are some outstanding examples of horticulture on the island including Huntes Gardens.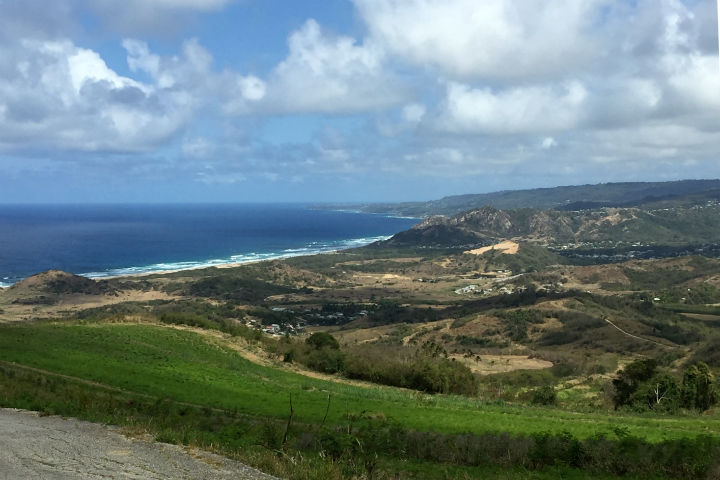 Deforestation is very apparent in the Scotland district.
Although there are intermittent heavy rains, the coral and limestone geology is highly permeable. This has helped to create some beautiful underground cave systems such as the Animal Flower Cave. However, it makes careful water management vital. The Government places great emphasis on protecting the catchment areas to its underground aquifers and streams. When I visited, water shortages were acute, but rainwater harvesting is common and there's a good programme of education for tourists to minimise consumption.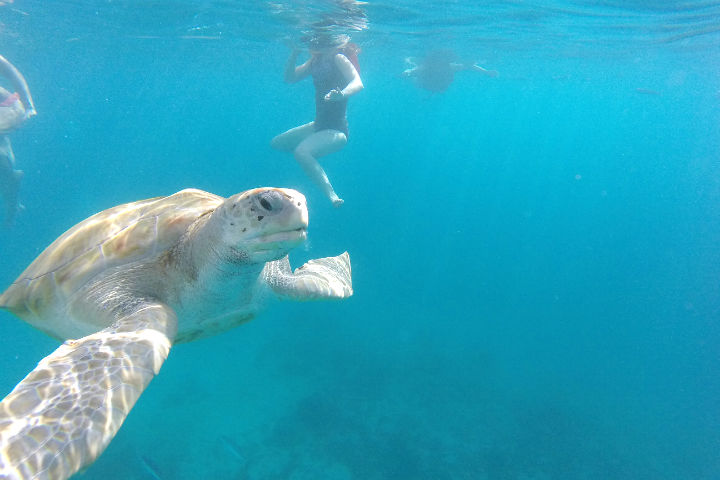 Hawksbill Sea Turtle
Protecting the water systems also helps to safeguard the coastal zone including the coral reefs which encircle the island. For decades, the Government has understood the importance of its coastline for the economy. As a tourist, it's hard not to be astonished by mile after mile of idyllic beaches, and I did my fair share of snorkelling on the reefs which support an abundance of life. Of course the island is a well known host to four species of nesting turtles and they play a key part in the island's ecotourism.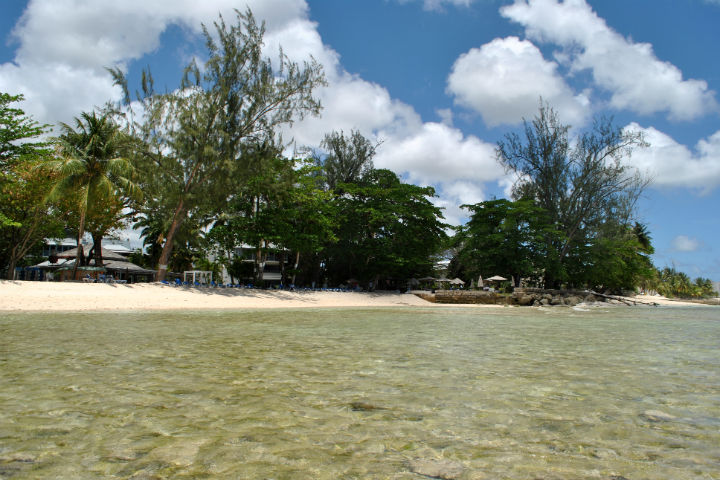 Hotel fronting onto the beach.
As I was heading home, I got to thinking about Barbados' future. Like many other small island developing states, it will bear the brunt of the impacts of climate change (3). Take sea level rise for instance. I estimated that many parts of my hotel were barely 50cm above the high tide line. Not much of a safety margin. On the other hand, with support, Barbados is well placed to make the transition to the a carbon economy. For example, a fledgling electric vehicle market is developing, and there are about 120 electric cars on the island's roads linked to an expanding charging network. Whilst Barbados' environment and economy are vulnerable, it remains a beautiful island and it demands a visit!
---
References
(1) Solar Energy in Barbados, United Nations Environment Programme
(2) How We Make Electricity, Barbados Light & Power Company
(3) Barbados has high expections for COP 21, Nation News
(4) Barbados, Wikipedia