Carbon Negative Farm Steading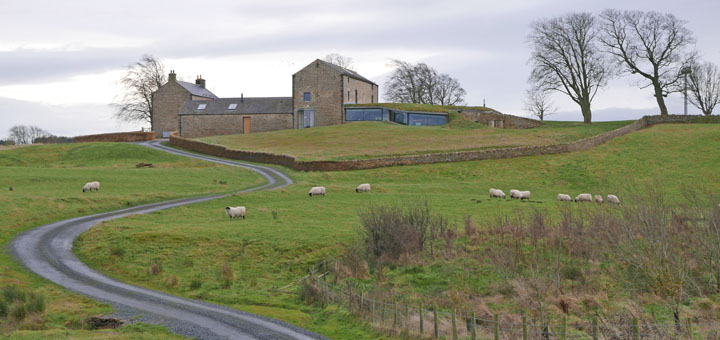 This carbon negative conversion of a farm steading in Northumberland blends into a landscape of outstanding natural beauty.
One building stood out for me at last year's RIBA awards ceremony. The Paise won three awards including the Sustainability Award. Father and son architect team Malcolm and Liam Newton, who's work we've already featured on this blog, were up and down from their seats like yo-yos. Malcolm introduced me to his clients, Mark and Isabelle Burnell, who had commissioned the project in 2009 and they kindly agreed to show me around their new home.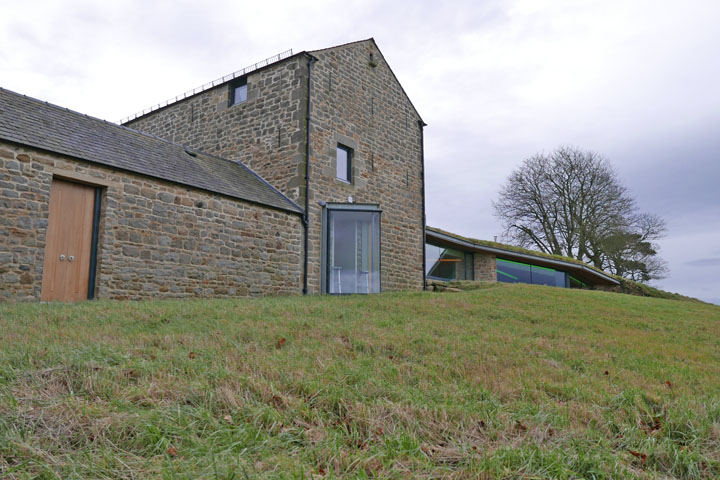 I drove out to visit Mark and Isabelle in December and was immediately struck by how comfortably the steading nestles into its moorland setting. The Northumbrian stone barns have been a feature of this landscape since the 19th century. Approaching them along a winding farm track, through fields of sheep, you have to look closely to spot any modern additions. As I pulled into the courtyard on the east side, it occurred to me that the biggest clue to their redevelopment lay in their excellent state of repair!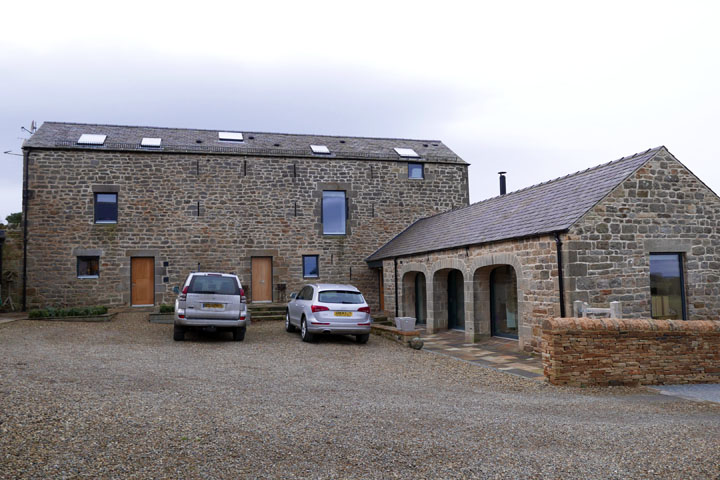 Mark met me in the courtyard and explained that the barns at The Paise had been semi-derelict for some time. He knew the site well having lived on the family farm nearby, and could see the potential. The brief was poetic and yet practical, calling for a design to bring the landscape into the homeTo help them realise this potential Mark and Isabelle wrote a detailed brief and held a design competition. They recalled how the solution proposed by local firm Newton Architects was the least ostentatious, a key factor that led to their appointment. The brief demanded something contemporary but without drawing attention to itself. Malcolm Newton says the brief was poetic and yet practical, calling for a design to bring the landscape into the home wherever possible, but which would keep out the violent weather of its exposed location.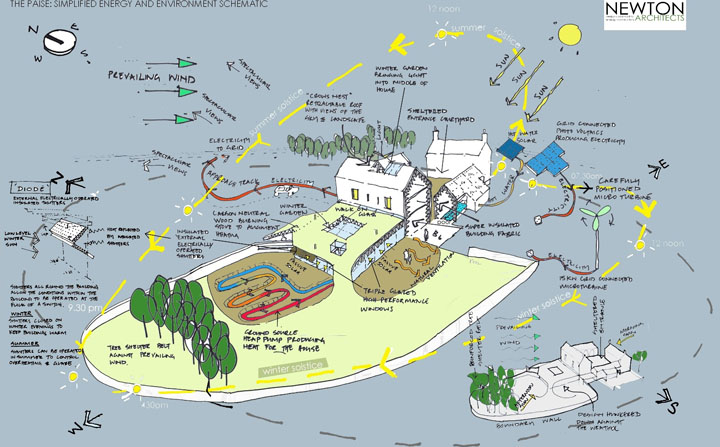 Energy and Environmental Schematic by Newton Architects
The site lies in the North Pennines Area of Outstanding Natural Beauty and Malcolm recognised that their best chance at securing planning permission was with a rarely used policy which supports new isolated houses in the countryside where they are of exceptional quality and innovative in nature(1). Malcolm was able to demonstrate that a carbon negative development, partially concealed beneath a grass roof, would actually protect and enhance the landscape. Eventually the planners recommended the scheme for approval and by January 2011, the path ahead was clear.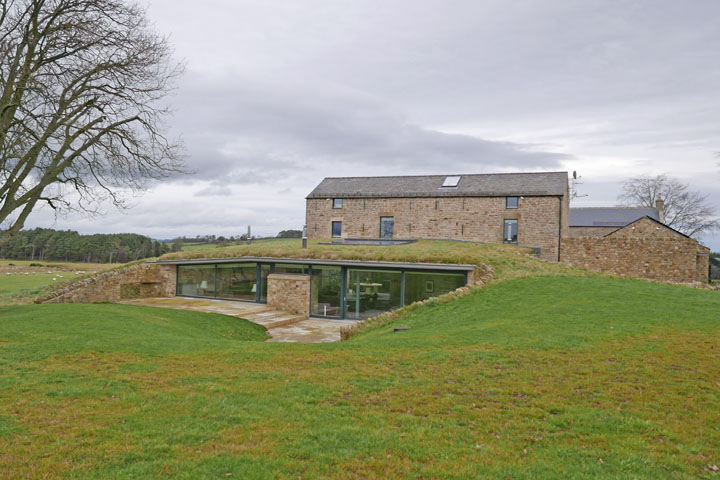 The concept for the house was to split it between the converted steading and a modern extension to the west. The main barn accommodates the kitchen, utility and bedrooms, and is flanked by two ancillary wings. One of these contains a swimming pool, and the other is a studio for Isabelle who's an artist. The agricultural character of the barns is still intact, and from outside there's little clue that Newton Architects have carried out a deep retrofit. The barns have been completely insulated using an internal timber frame and the patchwork of windows have been fitted with triple glazing. One beautiful new frameless glass bay window in the kitchen stands as a sentry looking over the drive.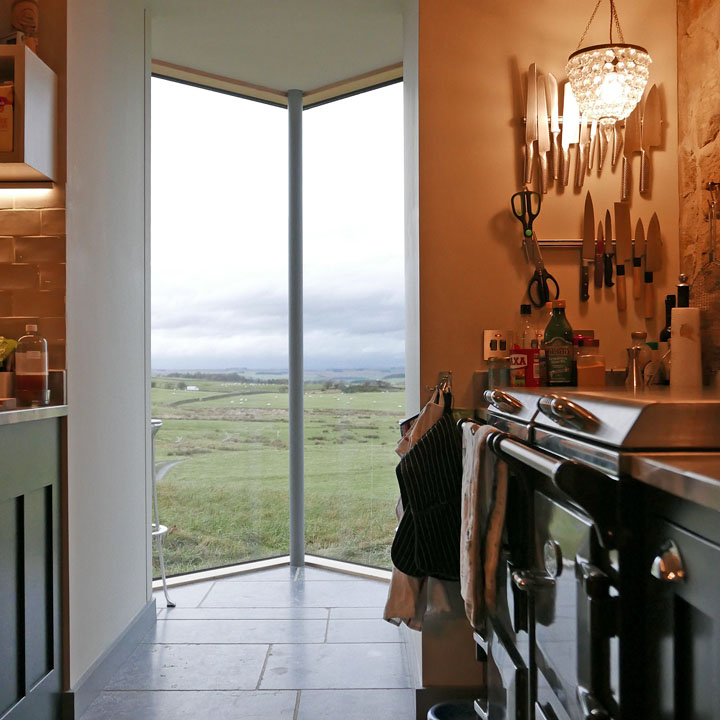 The bay window allows Mark and Isabelle to appreciate the outstanding views whilst remaining sheltered from the harsh wind and rain not uncommon in this exposed location. As we walked through to the modern extension, it became clear that this theme of view and shelter is also key to modern parts of the building. A simple arrangement of living spaces rotates around a central glass-roofed wintergarden. The whole area is covered by a sweeping grass roof, an extension of the landscape, which is cut back to create views and sheltered courtyards. Each room has a different aspect, including the writer's studio where Mark, an author, can retreat for inspiration.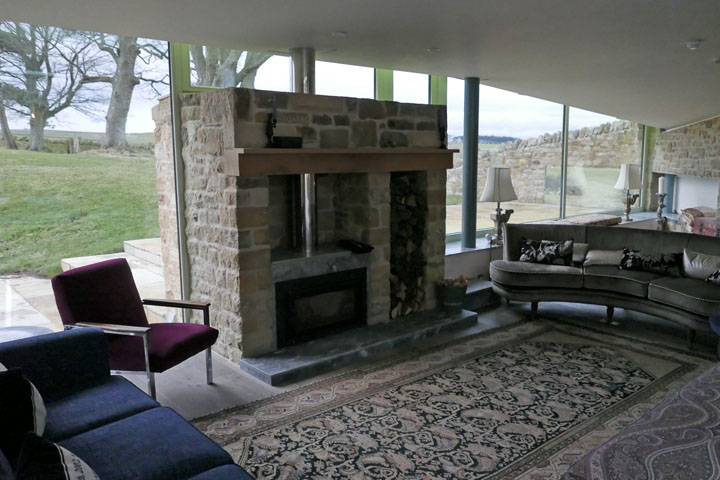 "We're not environmental activists, but it's ridiculous not to incorporate energy efficiency measures."Later, I quiz Mark about how sustainability influenced the way the building was designed. "We're not environmental activists," he says, "but it's ridiculous not to incorporate energy efficiency measures." The home has a highly insulated envelope with triple glazing. There is LED lighting throughout, and a mechanical ventilation heat recovery system (MVHR) which reduces heat loss. "Walking around the house is a pleasure," says Mark referring to the successful combination of views, daylight and thermal comfort.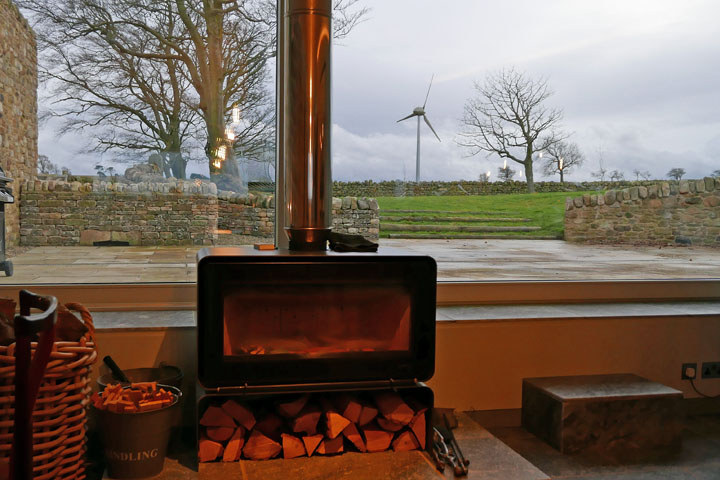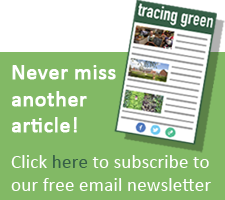 However, as you'd expect from a large house with a swimming pool, there remains a sizeable energy demand. This is generated on site with a blend of solar thermal panels, PV's, a ground source heat pump (GSHP) and a small 10kW wind turbine. Mark explained how successful the mix of renewable technology is proving. In particular, the PV array and wind turbine compliment each other, generating at different times according to the weather conditions. Figures for the first two years of occupation show that the project is indeed producing more energy that it uses.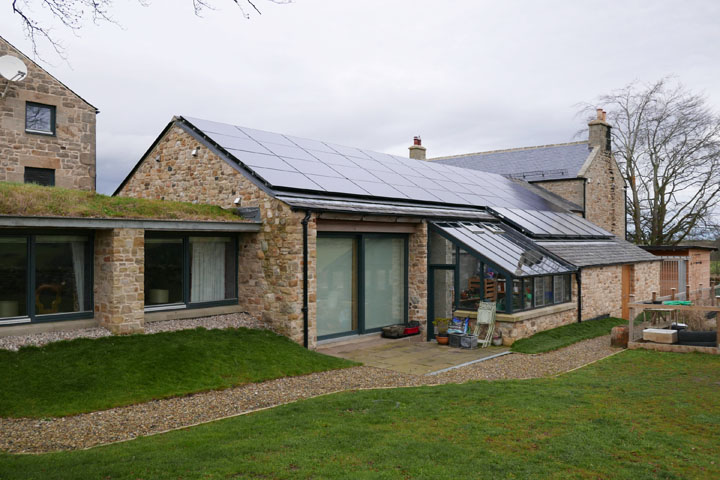 As all of those RIBA awards rightly identified, this innovative yet sensitive conversion of a farm steading has delivered on its carbon negative strategy whilst blending into an outstanding landscape.
---
References
(1) Paragraph 11 of Planning Policy Statement 7 (PPS7), now superseded by Paragraph 55 of the National Planning Policy Framework (NPPF)
Credits:
Architect: Newton Architects
Structural Engineer: David Narro Associates
M&E Engineer: Warmcall Ltd.
Landscape Architect: Alistair W Baldwin Associates
Contractorsr: Cubby Construction Ltd. and Bewley & Scott Ltd.
All photos by Tracing Green